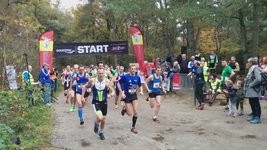 ---- English below ----
Wedstrijdverslag door Tristan Vlogman:
Kou, nattigheid en slingerpaadjes door het bos: de Dinkelloop van afgelopen zondag had alle elementen van een goede cross! Het parcours in natuurgebied de Zandbergen lag er prachtig bij. Vanaf de start doken de lopers na een kort modderbad het bos in. Heuvel-op-heuvel-af, over een tapijt van herfstkleuren slingerden zij langs het riviertje de Dinkel. Toen moest er nog een miniatuur-Sahara overwonnen worden in de vorm van een zandvlakte voor het eind van het rondje.
Martijn behaalde na zijn succes bij de Pingelloop vorige week nogmaals een eerste plek en ook Pauline trotseerde de Losserse heuvels en gevallen bladeren bij de twee rondes van de 5km. Maike en Tristan vonden de zandvlakte zo leuk dat ze nog twee rondjes liepen voor de 10km, waarbij Maike een podiumplek bij de vrouwen veroverde!
---
Report by Tristan Vlogman:
Cold, wet and loads of muddy trails snaking through the woods: the Dinkelloop last Sunday had all the elements of a good cross-country race! The course was both challenging and beautiful in the rainy fall weather. After crossing a muddy section (which the organisers had put there to ensure everyone got sufficiently dirty) just past the starting line the runners took to the woods. There the trail turned into a veritable rollercoaster through the trees around the "Dinkel" creek. Finally an area of loose sand (think Sahara desert, but smaller) had to be conquered before completing the lap.
After his victory at the Pingelloop last week, Martijn once again finished in first place in the 5k race. Pauline too finished the two laps of the 5k. Maike and Tristan enjoyed the wet and cold so much they decided to run the 10k, where Maike managed a very respectable 3rd place in the woman's race!