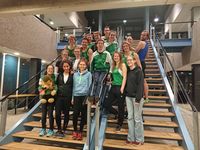 ---- English below -----
Gisteren was het zo ver; het laatste NSK van het jaar, de trappenloop in Nijmegen. Na redelijk wat gestress over het OV bereikten de groep van 15 Kronauten, aangevuld met wat verstekelingen, de mooie Erasmustoren. Terwijl sommigen de schrik nog aan het verwerken waren over de hoogte, of zich hardop afvroegen waar ze aan begonnen waren, mochten de eerste Kronauten al aan de start verschijnen voor de 10 etages. Bij de vrouwen behaalde Annabel een mooie 6e plaats, kort gevolgd door Annelie (7e), die het Duitse onderonsje met Shanice (8e) net met een seconde voorsprong in haar voordeel wist te winnen. Speciale vermelding voor Rita, die na de gebouwenloop van maandag besloot om maar eens een NSK mee te doen en direct een 3e plaats binnensleepte!
Bij de mannen was het een spannende strijd tussen de bestuursleden Roy en Vincent. Eerstgenoemde wist die met een seconde voorsprong te winnen, wat hem traditioneel een 4e plaats opleverde. Ook Fabian waagde zich aan de 10 verdiepingen en behaalde een mooie 7e plaats.
Daarna was het tijd voor de 20 etages, ook hier stonden veel Kronauten aan de start. Fenna behaalde een nette 2e plaats, terwijl ze deze week ook al 3e werd op het NK trappenloop! Jasmijn eindigde op de altijd ondankbare 4e plek. Bij de mannen was het de beurt aan een 6-tal Kronauten. Twan wist zichzelf naar een nette 3e plek te hijsen, terwijl Casper (5e) net een seconde te kort kwam voor het podium. Nart (9e) en Matthijs (10e) wilden de onderlinge strijd graag spannend houden en eindigden 2 seconden uit elkaar. Ook Harm (15e) en Sander (17e) zaten binnen de seconde van elkaar!
De grote boze wolf (Annabel) vond het daarna een goed idee om Roodkapje (Twan) de toren op te achtervolgen. Helaas werd de beoogde tijd niet gehaald, maar kregen zij wel de prijs voor het team met de origineelste outfit. Er was ook prijs voor het bestuursteam op de 4x5 etages estafette. Zij wonnen (zij het nipt) in een mooie tijd van 1:51 min. Merel en Fabian vielen ook nog in de prijzen met de bierestafette door samen met twee ZeuS bestuurders het snelst te adten en de trappen op te vliegen!
Al met al een heel gezellig NSK met mooie resultaten. Daarnaast is er een grote kans dat Kronos de ZeuS bokaal heeft gewonnen en zich de beste studentenatletiekvereniging mag noemen!
---
Yesterday, the last Dutch student championships of the year took place in Nijmegen. After a lot of problems with public transport, a group of 15 Kronauten, accompanied by some stowaways, reached the Erasmus building. Since the stairclimb was on the program, a couple of people were quite shocked by the height of the tower and were questioning what they had decided to join. The first race was the individual 10 floors. In the women's race, Annabel reached a solid 6th place, followed shortly by Annelie in 7th, who was victorious by just a second in the German battle with Shanice (8th).
At the men's race, a battle between two board members was fought. Roy managed to win this battle by beating Vincent by a second. This resulted in Roy claiming the 4th place, something he's quite familiar with, and Vincent finishing in 5th. Fabian also had a solid performance in 7th.
Then the 20-floor race was scheduled, with a lot of Kronauten competing in this event. Fenna managed to win the silver medal in this event, which is extra special after winning bronze at the national championships last Sunday. Jasmijn finished in the unfortunate 4th place. The men's race was populated by 6 Kronauten. Twan proudly won the bronze medal, whilst Casper (5th) missed out on the podium by just a second. Nart (9th) and Matthijs (10th) decided that they wanted to battle eachother by finishing just two seconds apart. Also Harm (15th) and Sander (17th) were separated by just one second!
The big bad wolf (Annabel) then decided that it was wise to hunt down little red riding hood (Twan) whilst climbing the 20 floors. Unfortunately, they didn't perform as expected, but they still went home with the award for most original outfit. The board team also took home an award by winning the 4x5 floor relay. Their winning time of 1:51 minutes was just enough to claim victory. Merel and Fabian also took home an award by winning the beerchase in a team with two ZeuS board members.
All in all, it was a very nice and successful championship for Kronos! There is also a large possibility that we have won the ZeuS cup and therefore are able to call ourselves the best student athletics association of the Netherlands!