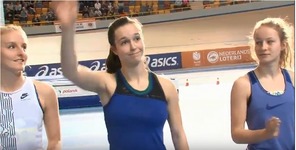 Afgelopen weekend deden er twee Kronauten mee aan het NK Indoor senioren in Apeldoorn. Roy mocht laat op de zaterdag aan de bak op het hinkstapspringen om zijn tweede plaats bij het NK junioren van het jaar ervoor extra glans te geven. Helaas had hij zijn dag niet en met twee foutpogingen en een te veilige derde eindigde hij op de onfortuinlijke 9e plaats. Enige lichtpuntje is dat hij wel even zijn moments of fame heeft gepakt door meerdere malen op NPO 1 te zien te zijn in zijn mooie Kronos groen.
Op de zondag was het de beurt aan Marjolein die (gesteund door Marnick, Antoine en Martijn) direct aan het begin van de dag haar best kon laten zien op het hoogspringen. De hoogte zat er wel in, maar helaas viel het allemaal net niet samen op de 1.68 meter. Dit betekende dat haar wedstrijd eindigde op de 1.63 meter en een 9e plaats. Na 3 weekenden aan NK's, met de bronzen plak op het NK meerkamp als hoogtepunt, kan zij toch zeer tevreden zijn met dit resultaat!
---
[English]
Last weekend, two Kronauten participated in the National Indoor championships in Apeldoorn. Our chairman Roy was first to compete at the end of the saturday afternoon. Placed 5th before the start of the triple jump, he was feeling confident that there might be a medal for grabs. Unfortunately, it didn't work out and after two fouls and a way too safe third jump, he found himself in 9th place. Only positive thing is that you may have spotted him in his Kronos green on TV, if you haven't yet, go and have a look yourself via the NOS.
Marjolein had to wait another day for her third national championships weekend in a row to start. After a magnificent third place in the pentathlon two weeks earlier, she took on the high jump this time. The height in the jumps was there, but unfortunately it didn't really come together at the right time. Therefore she ended her competition at 1.63 meter and a 9th place. Considering the fact that she is still a junior, we can expect a lot from her in the coming years!