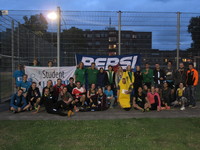 (English version below) Afgelopen vrijdag 22 juni was het dit keer tijd voor de 2e editie van de FLAAT, wat leuk dat jullie allemaal hebben meegedaan. Nog even een korte recap van wat er allemaal is gebeurd.
Na een korte warming up konden de teams zich van hun beste kant laten zien bij de start van de 5x200m estafette. Vervolgens gingen de teams langs verschillende atletiekonderdelen. Er was een divers deelnemersveld, van Kronauten tot een deelnemer op krukken en de atletiek-familie, de Roskampjes. Dit maakte het erg leuk om de verschillende onderdelen te zien. Samen met de vrijwilligers en het commentaar door Vincent Witmond die met zijn megafoon live verslag deed van de onderdelen, was de sfeer compleet. Na de onderdelen heeft iedereen nog een keer alles gegeven op de 800m. Hierna was het tijd voor de prijsuitreiking in de Vestingbar. Hier kon Annabel eindelijk de prijs waar ze al sinds haar 2e plek van vorig jaar op wacht in ontvangst nemen, want haar team V.A. Coq heeft de winst binnengehaald. De tweede prijs ging uit naar het competitieve huis Piekosaurus, die maar net voor Patio 4 kon eindigen. Vrijwilligers en deelnemers bedankt en hopelijk tot de volgende keer!
---
Hey sports enthusiasts and friends,
Last Friday, June 22, the FLAAT team athletics competition took place. We, the committee were delighted with the fiery passion you all showed to win the title of number one. Just a short recap of what has happened. After a short warm up, the teams could show how well they worked together in the 5x200m relay. Following up, each team sparred against a new team each round for the javelin throw, 60m hurdle sprint, 100m sprint and the long jump. There were many diverse teams of participants, from Kronauten to a participant on crutches and the athletics family, the Roskampjes. This made it very nice to see each event. Together with the volunteers and the commentary by Vincent Witmond, who reported the parts with his megaphone, the atmosphere was complete. Lastly, every participant gave their final efforts on the 800m run. With all the events finished, it was time for the award ceremony in the vestingbar. Here Annabel was finally able to receive the prize she had been waiting for since her second place last year, because her team V.A. Coq had won an outstanding first place. The second prize went to the competitive house Piekosaurus, which could only finish before Patio 4.
We'd like to thank the volunteers and participants and hopefully until the next time!