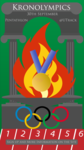 The Olympics are still two years away, however Kronos has decided to organise its own olympics called: The Kronolympics. This track meeting will be held the 30th of september at the UTrack.
The track meeting will be the same as the clubchampionships which is only for memebers of Kronos. At the games you can participate in various disciplines, these are: 100m, 800m, 3000m, Long Jump, High Jump, Discus Throw, Javelin Throw. Participation is FREE and you can choose as many disciplines as you like. However, if you want to have a shot at the pentathlon and become clubchampion, you have to participate in at least 5 disciplines. To count the points the standard formulas of the IAAF for adult males/femals will be used.
So be sure to enroll, because maybe you are the next to win KronOlympic Gold!!