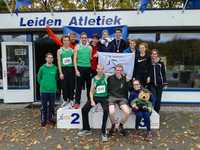 Last Sunday hordes of Kronauten woke up in the early morning and travelled to Leiden to compete against other students of all corners of the country at the Dutch Student Championships road. Unfortunately, the other corners were not equally enthusiastic in showing up and therefore the Kronos green was well visible during the race. The race was part of the Leidse Houtloop, a small recreational race of two rounds of 5 km through the park "Leidse Hout", with many curves and on gravel paths. It was therefore not the best race to run personal records, but rather a good opportunity for Kronos to win points in the Zeus competition and a good opportunity to check what the current form is.
The first point worked out nicely with podium places for Thijs (second) and Steef (first). Also checking the form succeeded: for some with positive feedback, for others the coming winter might be used to increase their level a bit further. There were cheerful faces for Annelie, the first Kronos lady, who ran a fast time of 44.54, a personal best, on the 10km. Vincent (Witmond) and Sander (on the 5K) could see their progress of training structurally again since the summer. Apart from that also Matthijs, Jonas and decathlete Jitse also performed well in the race.
To conclude it can be said that Kronos performed well and many points were obtained by Kronos in the battle for the Zeus-tournament.
The results can be found on http://currimus.nl/.
Written by Steef