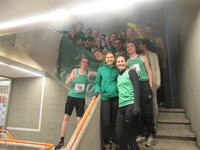 On Friday evening December 14, we traveled to Nijmegen with a whole bunch of Kronauts to ascend the steps of the Erasmus building and to uphold our honor in the battle with the other student athletics clubs. First on the program was the 10 floors. A real sprint distance where you (especially on the last few steps) really have to fight the fatigue. Immediately it turned out that Kronauts could do this like no other, because with Annabel in third, Marjolein in second place and Lieke first for the women, the stage was already flush with Kronos green. Jing Yun also did very well! The men also did very well, with a second place for Gijs and quick times for Twan, Roy, Vincent, Corne, Marnick, Rogier and Sander.
After this it was time for the heavy 20 floors. The Kronauts all kept up the pace perfectly and ran quick times. Thijs took a fourth place and Twan came fifth. Nart, Casper, Matthijs, Maarten, Laurens also ended with fast times. For the women Annelie and Irene went as fast as lightning and they achieved the second and fourth place respectively.
Then it was time for the relay, where 4 participants each had to run 5 flights of stairs. Dressed as Mario, Luigi, princess Peach and Yoshi, team Super Kronos went up the stairs in the rhythm of the mario theme song. And despite these awkward outfits, the team managed to come in second place! The first place also went to Kronos: The Stairway to Hell team conquered gold.
In the beer relay, Kronos was also well represented with no less than 3 teams. Team 62'vo took gold and team Kronos Trappisten came in third. The team baanbrekend got a nice sixth place. With all these achievements we can all feel proud again!
Here are the Results: https://hardloopuitslagen.nl/?wedstrijd&show=458&rel#tab3default
Written by Gijs