Lustrum theme announcement drink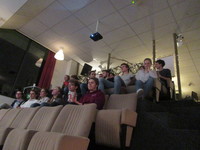 After a long preparation by the lustrum committee, it was finally time to announce the biggest secret of the past few weeks on Wednesday 12 December. The theme would finally be announced during the only real 'lustrum theme announcement drink'.
The evening started at a unique ("uitzenderlijke") location with a view of the Utrack and a real cinema. In several teams, kronauten could earn hints by means of puzzles and games that could lead to the 11th lustrum theme of D.A.V. Kronos. Especially the game rounds with peg relay and bubble blower games have produced beautiful pictures (see Kronos Cloud).
After all teams had guessed the theme, the official announcement could take place. All those present took place at the cinema seats and the film started. See: As can be seen, the theme or actually the name of the theme was not determined at all and so it was time to do so. One by one everyone was allowed to vote and finally the nice theme "Behind The Green Screen" was chosen. This result was announced after accurate counting from our own notary / Dagobert Duck Marnick. Then it was time to continue the drink in the city. The usual pubs and places have been unsafe again ... of course the Pilcie chairman, who celebrated his own birthday, immediately came to visit the remaining kronauten in the Mac when they were no longer in the Wigwam.
It was a very nice evening and we can also look forward to the next lustrum activity: Lustrum-New Year's gourmet dinner on Friday evening, January 11th. Make sure to sign-up on the site quickly!