NSK Cross
| Thijs van Aalten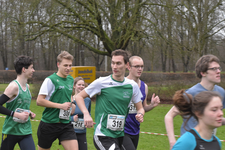 Saturday the 26th of January, time to get up. Everything is packed: running shoes, sports attire, sleeping bag, mattras, toothpaste and a concerning lack of spikes. Let's go to the NSK Cross in the Amsterdamse Bos, starting number to be picked up at the arena. On my way there I run into some skinny people talking about how many guys the girl with the red hair has kissed last night. Three?! "I'm guessing you're going to the NSK too?" I ask. They are from Groningen they say. This is alright with me, because now I can outsource my sense of direction completely. And indeed after some time of following I find some kind of old barrack with a cricket field and some five Kronauts. I know those people!
The Kronos green was represented nice and abundantly with a good 18 participants and one volunteer. There was choice from a short (1 lap) and a long cross (2 laps for women, 3 for men), and as usual with a cross: run for the placing, not the time.
The parcour was delightfully rustique with as highlight the mud heap. Boy was that a heap of mud. This is where the difference was made: were you wearing spikes? Did you work on your stability enough to stay up straight as you were skiing down? These criteria were clearly visible in the results as well, in the short cross there was a nice 8th place for Nart en a bit later also Vincent Bosboom and Casper came in with a 12th and 13th place respectively. Also very honoroble mentions for Annabel and Thijs Roskamp who despite their hostility towards the concept of long distances conquered their fear of actually getting tired. Jasper fell.
Onto the long cross we see a nice outcome for Thijs van Aalten and Jonas on place 15 and 19. With the women a cool 7th place for Annelie and a podium +10 with places 11-12-13 for Fenna, Nienke and Jing Yun.
After the cross it was time to go explore the Olympic stadium armed with a plate of curry and then to have some drinks. And lo and behold, a bit into the city we found a place selling beers and NSK-participants from all over the country to share them with. As is tradition the night ended in the Mac with a large range of options: doing a dance, ordering food or better yet smiling because you had a good day.
The full results can be found at https://uitslagen.nl/uitslag?id=2019012600828.
Written by Jasper Gerritsen
---
Comments
Je moet ingelogd zijn om te reageren of reacties te bekijken.