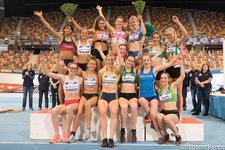 The NK month started for Marjolein and Merel with the NK pentathlon. At the first event the first clubrecord fell as Marjolein finished in 9.13 seconds and Merel just behind in 9.20 seconds. At the high jump both girls jumped constant with 1.64 en 1.58. Merel did a nice job and equalled her pr with 10.72m on the shot put and jumped to an pr with a 5.38m long jump. Marjolein was just behind her with 5.34m at the long jump. Then it was time for the very beloved 800 meters, Merel was again on the pr hunt and ran an clubrecord of 2.21.24. Merel ended at the 10th place with 3630 points, again a clubrecord, and Marjolein was 12th with 3553 points.
The weekend after it was time for Jitse and Michelle to show what they got in store on the NK Junioren. Michelle was allowed to begin on the long jump. The past competitions she was close to the 5 meter barrier and unfortunately also today with 4.88m she did not break it. Jitse was allowed to present Kronos on the high jump, after he jumped a pr of 1.80 in the last competition, the 1.81 was a little bit too high for him today. But still he finished on the 10th place with a nice height of 1.76.
Lastly there was the NK Senioren, unfortunately Roy had to withdraw because of an injury. At the first day Marjolein reached the finals with the shot put and ended at the 8th place with a distance of 12.05m. Then on sunday she started with the high jump where she finished on the 9th place with a height of 1.63m. In the same time, Merel was running the 200 meters, and finished in an personal best of 25.94. Which is again an clubrecord, nice job Merel! Both girls also competed in the 60 meters hurdles, but because of the tired legs, this was a little bit disappointing.
After all it was an nice NK month, with 4 new club records and we are wondering what those 4 and all the other Kronauts are going to show us during the NSK Indoor the 2th of March.