NSK Track
| Thijs van Aalten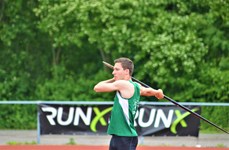 Thursday morning, 8:09, the train leaves from Enschede to start our long journey to the far north. Fully loaded with stuff, we travel with a small group of Kronauts to Groningen for the NSK track. After some trouble with getting all our luggage on the OV-bikes and pedalling really hard to get to the other side of a very large bridge, we arrive at the home track of Vitalis. A various amount of disciplines are on the schedule these two days and the morecamp group of Kronos decided to participate in a lot of different disciplines. On day 1, 3 medals were won by Kronauts: a gold and silver medal for Marjolein on the long jump and high jump, and a bronze medal for Michelle at the long jump. The highlight of day one was Nart, who decided to take a refreshing dive during the 3000 meter steeple chase. After all the hard work, the well deserved dinner was served. Not everyone liked it however, so we decided to cycle to the nearest Mc Donald's to continue our dinner there.
After having slept well on the camping of Vitalis, it was very hot so we decided to relax on the high jump mat after breakfast. Again, medals were earned for Kronos on day 2: silver for Merel Wevers in a very exciting race on the 400 meter hurdles, a bronze medal for Marjolein and last but definitely not least a gold one for Thijs van Aalten, Marnick, Roel from Tartlétos and Tim from AC Tion, in the most exciting event of the day: 4x60 meter in flippers. At the end of the day, we went to the city centre of Groningen for a drink and a dance.
The next morning, it was time to pack our bags and start our long journey back to Enschede. Unfortunately, Kegel de Egel was stolen from us during breakfast, Asterix, please take good care of him!
The complete results can be found on https://www.atletiek.nu/wedstrijd/uitslagen/25139/
Written by Michelle
---
Comments
Je moet ingelogd zijn om te reageren of reacties te bekijken.