Kronos Lustrumweeks
| Annabel Boonman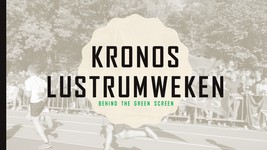 Last academic year we already saw a number of lustrum activities coming along: The theme announcement evening, the New Year's dinner, The Who is the mole game evening and the trainings weekend. Soon our lustrum period will come to an end and that's what we do with the kronos lustrum weeks:
17 sept – Verjaardagsfeestje | Birthdayparty
18 sept – Bingo/spelavond | Bingo/Gamesnight
20 sept – Filmavond | Movie Night
21 sept – Lustrumtrip | Lustrum Outing
25 sept – Verrassingsactiviteit | Surprise activity
28 sept – ludieke meerkamp + Alumnidag | Fun-Morecamp + Alumniday
Sign up for these activities now!
---
Comments
Je moet ingelogd zijn om te reageren of reacties te bekijken.