Discuscompetition
| Thijs Roskamp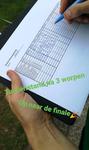 After the Kronolympics and O3K, monday it was time for the 3rd internal competition of Kronos. For a month and a half, a lot of Kronauts had prepared during the discus training on Monday to try to sharpen their PR for the discusthrow before the holiday. Inspired by Daniel Stahl's first 70-meter throw, the Kronauts also wanted to try to get their place in the rankings (unfortunately this didn't work). Nine Kronauts took part in the competition and some of them had the idea to set up bets. Unfortunately, it was discovered that the match organizer did not understand how betting works and the Kronoskas did not want to guarantee the bardukaten to be paid. Fortunately, this did not put a damper on the game and everyone started the game enthusiastically.
Fabian and Koen found out last week that the use of the legs in the shot put was more important than expected and that a half marathon the day before does not help. That is why they thought it was a good idea to do the running training before the competition, because it should not be too easy. Nevertheless, Fabian managed five valid throws with a best distance of 19.96 to finish in 7th place. Koen had a bit more trouble with throwing valid, but he still managed to beat his rival with a throw of 21.01 and finished a spot above Fabian. Emma had attended almost every discus training in recent weeks and that was evident with a nice throw of 19.02 she conquered 8th place. Gijs did not have his best day, as he repeated several times, and had difficulty with valid throwing. With a throw of 18.06 he finished in 9th place. Merel was a bit unsure in which technique she would use and oscillated between South African and One and a half turns. Still, she consistently threw around 25 with a best throw of 25.49, enough for 5th place.
Although the bet was that Roy (as usual) would finish in 4th place, this time it was Marjolein's. Who was also keen to throw over 30 for the extra bardukaten. Where it was not so smooth in the beginning, Marjo unleashed in the final with two throws over 30, one of which was 31.01, enough for 4th place. In the top three it was very exciting. Marnick opened strongly with a throw of exactly 36 meters and Roy also threw a new PR with a few centimeters, while Thijs, of course, threw invalid. Marnick improved himself in the 3rd round with 36.27. In the spirit of the final shot put in Doha, Thijs tried to make it exciting in round 6, but with 35.70 it was just not enough. As a result, Roy finished in 3rd place with 34.63, Thijs in 2 and Marnick in 1.
A successful game according to the organization and trainer, that deserves a pitcher at the next drink / party. Many improvements from everyone, but here and there is still work to be done. Hopefully everyone can improve themselves in September at the NSK Baan and in October at NSK Meerkamp and end the corona season with beautiful PRs.
Thanks to Basile, Stan and Rogier for helping with setting up / dismantling and judging.
---
Comments
Je moet ingelogd zijn om te reageren of reacties te bekijken.