Campusloop 2020
| Koen Kroep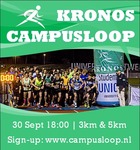 After a delay of half a year, on the 30th of September, the next edition of the Campusloop will start. This year, there is a new track of 3 or 5 kilometers across the campus of the University of Twente.
Subscribing for the Campusloop can through this link. Subscription on the day itself is not possible.
Teamcompetition
This year there is a new possibility to compete in a team. Participate in a team of 4 persons and try to run as constant as possible, and win a coupon for the Tapperij in Hengelo. participating in the teamcompetition can by sending an email to campusloop@kronos.nl. Please note your teamname and the members of your team in this mail.
If you cannot participate to the campusloop, but want to be present, you can subscribe as volunteer!
For more information about the campusloop, the regulations and the teamcompetition, look at our website campusloop.nl and also keep an eye on our instagram and facebookpage for all the information about the campusloop.
---
Comments
Je moet ingelogd zijn om te reageren of reacties te bekijken.