Sinterklaas Escaperoom
| Thijs van Aalten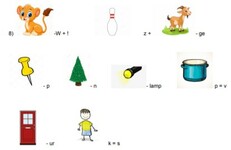 As the end of a year full of delay and cancellation the date for this Sinterklaas activity could not stay behind: 16 December. The Sinterklaas Escape room consisted of 10 exercises which had to be solved in teams. For each right answer, the team received a number from game leader Bas. With all those numbers the eleventh and final question could be answered: where is Kegel?
At first sight, the questions seemed impossible. Who knows for example what Fabian asked for on his wish list in 2015? He probably even forgot himself. Nevertheless, the answer on each question could be found somewhere in the Kronos archive. In the photos folder from the association weekend in 2019 a picture from all flags could be found of the countries that participated in the association weekend. With this, it was easy to decide which of these countries lay closes to Spain.
There was also a special Sudoku. In the team of Thijs v A, Marjolein, Roy and Marnick it was Marnick's task to finish this Sudoku. Thanks for your effort Marnick, but it was a waste of your time as we already answered the eleventh question before you finished the Sudoku.
The team of Jitse, Jelle, Dunya and Suze was looking for help from their competitors: Nart, Gijs, Jasper G, Basile and Vincent. Together they used Google Maps to look for Kegel in the Efteling. It is understandable that you are missing the forest of fairytales to much, but Kegel has his holiday in a much warmer country.
The team of Jasper G, Basile, Vincent and Gijs thought to claim the victory after they answered the first 10 questions very fast, but unfortunately the search for Kegel took a bit longer. Maybe this is caused by the bad connection that Vincent developed with Kegel during his board year?
Because of that, Merel W and Anouk succeeded to finish second with only two (!) participants, in front of Dunya, Jitse, Jelle and Suze. At that time the beatiful "Het Duurt Te Lang" from Davina Michelle was roaming the voice channels of the teams that were not finished yet. Unfortunately this was not appreciated by everyone.
Koen, Lieke, Fabian and Annabel were constantly interrupted by others in their voice channel. This is probably the excuse that they will use for losing. Or it was because Lieke was completely inaudible during the game according to her teammates. That's definitely not a good sign for an ex-secretary. They finally managed to find Kegel in the middle of the street with the most beautiful street name in the world: the Kronosstraat in Pararmaribo!
---
Comments
Je moet ingelogd zijn om te reageren of reacties te bekijken.