Laphap
| Marjolein Bolten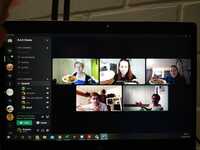 Now that the first weeks of training are over, it is also time for an (old-fashioned) laphap. Which of course stands for a round of running / training (lap) and then eating together (hap :)). Of course in a new format, namely via Discord. But that should not spoil the fun!
After a quick run after a long day of studying, because participating in the laphap without training in advance is of course cheating: p. Not even a minute out of the shower and there was the committee with a plate full of spaghetti and a dessert.
Now the challenge was not to start eating until the activity started, some kronauts managed to do this, I only had dessert left by 1930. But it was certainly tasty!
During the online discord drink, a number of nice pictures were taken and there was still a lot of fun chatting! It was very nice to speak to everyone again and on to the next activity!
---
Comments
Je moet ingelogd zijn om te reageren of reacties te bekijken.