NSK Ekiden 2021
| Thijs van Aalten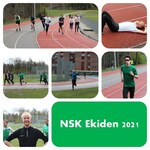 Last weekend it was time for the online NSK Ekiden 2021. It had been a while since the last NSK took place, to the participants were keen to step up their game. 3 Kronos teams, consisting of 6 people running a marathon together, participated with only one goal: take the win! In order to strengthen the race tension a little more, the teams decided to start together at the Utrack. Everyone created their own route from there, which was only partly successful. Luckily everyone was able to find the Utrack back in the end.
All teams participated in the men classification. Team Wincapabel (Chiel, Vincent, Casper, Thijs vA, Ivo V and Jasper G) partly lived up to their name by taking the 2nd spot in the results. Team Kronos Masters (Lars vdV, Fabian, Rogier, Annabel, Marjolein and Ron) showed that age is just a number by finishing 5th, just in front of the (ex-)board team consisting of Ivo S, Koen, Dunya, Renee, Jitse en Stan.
Altogether a perfect preparation for the Batavierenrace in 2 weeks!
---
Comments
Je moet ingelogd zijn om te reageren of reacties te bekijken.