Batavierenrace 2021
| Roy van Zijl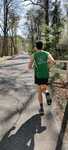 Last week both the longest (in terms of absolute timespan) and shortest (in terms of distance) Batavierenrace was held. The 49th edition of this beautiful relay unfortunately took place online for the second year in a row. The big advantage; you can run when and wherever you want. A number of Kronauts even did their entire stage on the UTrack!
Lars was the first one to start the race for team D.A.V. Kronos I early in the thursday night. Due to the large amount of athletes also running for the university team, we could only enroll one team to the race. The team consisted of a nice mix of long distance runners and technical event athletes who took their place on the start line with different grades of confidence and excitement.
Due to the great weather conditions, along with some heavy gusts of wind, the refreshments organized by the committee were very much welcomed by the 23 athletes. The last of them finished his stage late in the afternoon of the saturday.
Ofcourse it is unfortunate that the race was held online and that the 'real' feeling accompanying the race was not present. Therefor we sincerely hope that we can get a proper race next year!
In the end, the team managed a very nice 14th place in the overall ranking by running 128.67 km in 9:35:29 h. A massive thank you to all runners for participating and obviously the committee for organizing the team and everything around it!
---
Comments
Je moet ingelogd zijn om te reageren of reacties te bekijken.