Looking for a new candidate board!
| Dunya van Zanten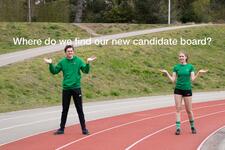 Spring this means that the end of this academic year is almost in sight and that it is also time for a new candidate board!
As a board you are mainly responsible for keeping the association running and everything that goes with it. At D.A.V. Kronos is the part-time board position, which means that you can still do your studies on the side. In principle, everyone on our board has just had a "normal" year of study. In addition, a board at D.A.V. Kronos are super fun! In addition to getting to know your board mates very well, you also learn how managing an association works and it is of course good on your resume to have managed an association;)
Because we understand that it might be difficult to see if it is something for you, each of us typed a short piece about what we do in our position and how we like it.
Dunya van Zanten - Chairman My name is Dunya and I am the chairman of this fun association! As chairman I am mainly concerned with leading the meetings, maintaining contact with external parties and keeping an overview. Because of my position I also have a lot of contact with members, which makes this position very nice. You are also actively involved with everything that goes on within the association and you are present at many activities. This, too, makes a board year at D.A.V. Kronos nice! If you have more questions about my position, feel free to send me a message;)
Koen Kroep - Secretary My name is Koen and this year I am the secretary of D.A.V. Kronos. As a secretary you keep track of the membership administration, you register all new members with Kronos and you deregister all departing members. Because of this task you have a lot of contact with members, which makes secretary a great position within the board. The nice thing about a board year is that you get to know the members and the association well in addition to your fellow board members.
Ivo Stapel - Treasurer n recent months I have been able to perform the wonderful task of treasurer, and I would like to tell you what that entails. As treasurer you are responsible for the financial administration of Kronos. This means that you pay invoices and declarations, make collections from the members and make and send invoices to external parties. You also have to keep an overview of the finances of the association and everyone comes to you asking for money. You are also responsible for the sponsoring committee (and possibly other committees). Finally, and that is one of the biggest tasks, you prepare the financial (semi) annual report and the budget that you have to justify at the GMMs. I wanted to do board to get to know the other side of the association better, that of all the organization around the training, competitions and activities. I also wanted to do this position because it really teaches you new specific skills (related to bookkeeping and financial administration) that generally come in handy. I myself had very little experience with finances, but with enough help from the former treasurers and a nice script, I learned a lot in a short time. If you want to know more about what it means to be a treasurer, you can always contact me;)
Renee Sijbesma - Match secretary Hi everybody! I am Renee Sijbesma, 20 years old and currently the match secretary of D.A.V. Kronos! This is now my second year at this nice association and after my first year I immediately opted for a great board year with my nice board mates Dunya, Koen and Ivo. As match secretary you are responsible for the conduct and planning of competitions that are organized among the athletics associations. You are active with both the training committee and committees for the various tournaments / matches that take place in a year. In addition, you are expected to be present on those days to ensure that you make it a fun day for your members and that everything runs smoothly and clearly. Would you like to be in charge of the competitions with the association next year, let us know! If you have any questions about this position, you can always contact me! :)
---
Comments
Je moet ingelogd zijn om te reageren of reacties te bekijken.