Fun technical events turn out to be CB-activity!
| Thijs van Aalten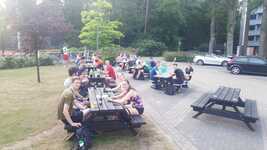 Already a week has passed since a very mysterious activity was on the schedule. The board promised us a "Fun technical events + drink". Once gathered at the verreveld it appeared to be a disguised CB-interest activity. Fortunately, this didn't spoil the fun! Five playful disciplines were completed, each inspired by one of the five usual Kronos board functions. This way, everyone could check in a playful way which function suits him or her best.
The qualities of the chairmanship were tested by throwing the chairmanhammer. Marjolein immediately made clear that she fulfilled the function of match secretary a few years ago by throwing the hammer completely the wrong way and making it land in the ditch. Secretary Koen made us spell the names of the board members before completing a difficult parcours backwards. As preparation for the treasurership everyone had to yeet filled plastic cups as far as possible. As a match secretary, you should be able to handle a shot and discus, so a game of tic-tac-toe (also known by the Dutchies as butter, cheese and eggs) was played. A cone was placed in the square if a shot or dicus landed there. Finally, an internal commissioner knows how to bind members ánd is also called a commissioner beer relay. Therefore, members completed a beer relay in which they were tied together and had to complete a parcours.
Of course, the evening finished with a drink at our friends of Ludica, where Ivo the current treasurer stood out in several ways. He showed his generosity by treating everyone on their first drink. Then, he drank a few beers like it was water. Also a shoutout to Vincent, who showed his strong point by breaking into one of the tennis courts.
Did you think after this phenomenal activity: I want to be in the next Kronos board! Then don't wait and send in an application letter to the board (bestuur@kronos.nl) in which you explain why you want to be in the 66th board of D.A.V. Kronos. Also indicate your preference board function (and maybe a second choice). If you have any questions, feel free to contact someone from the board.
---
Comments
Je moet ingelogd zijn om te reageren of reacties te bekijken.