Successful NSK Teams in Eindhoven
| Roy van Zijl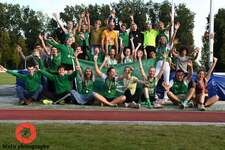 On Saturday September 18, 34 Kronauts left for the NSK Teams for the craziest city in the country: Eindhoven. Enschede sent two men's and one women's team in the battle for the best student athletics city. The teams consisted of a nice mix of experienced Kronauts, brand new members and a few import athletes from surrounding associations. It was the first NSK in a long time with a party afterwards, so everyone's enthusiasm was present early on. The organization's choice of music also contributed to this, after all, there's nothing better than Snollebollekes at 10 o'clock in the morning. This was the prelude to a successful day, with a second place for the women's team, a 4th place for the 1st men's team (with a tie for number 3) and a 9th place for the 2nd men's team.
Immediate club record on the first event, Renee also beats 25 year old CR
For both the men and women, the 4x100 m relay was first on the program. The women's team consisting of Evelien (in her first competition for Kronos), Merel W, Marjolein and Michelle broke the club record by almost a second and nearly dipped below the magical 50 seconds with a time of 50.03 s, good for a 3rd place. Only the 1st men's team (consisting of Tim vdK, Roy, Gijs and Gabriel) ran the relay and took a very good 2nd place.
Shortly afterwards Gijs, Fabian and Koen found out that a 400 m hurdles was very tough. Rumor has it that Gijs stayed behind in Eindhoven to recover, we hope to see him again one day! Event experts Nart, Gerber and Merel W were prepared for the fatigue, which even resulted in a PR for Gerber. In the individual 100 m it was the men of TION who were in charge, Tim vdK and Andor set good times and Yorick managed to beat Gabriel in a direct fight. In the women's team, Evelien, Maartje and Dunya unfortunately did not have the perfect race.
With this it was time for the longer running events, starting with the 800 meters. Merel L kicked it off well by improving her PR by 7 seconds. The promised exciting battle between Gerber and Fabienne did not materialize, even though the results lead us to believe otherwise. In the first men's team, Chiel - who had gained the sole responsibility – nearly managed to dive under 2 minutes, but with 2:00,11 he managed to get some good points and that barrier is certainly possible! In team 2 there was an exciting fight between Basile who had just returned and competition duo Koen and Fabian. In the end it was Basile who won the three horse race.
In the 3000 m Renee, who raced on her former home track, ran to a big club record with 10:08.32, good for a 3rd place. Unfortunately beating the ladies in front of her was just a bit too ambitious. A little further on, Isis ran a good half a minute of her time from the promotion race, Anne also ran a decent race in the now quite warm south. In the men's 5000 m, Pepijn managed a great final sprint to grab an extra point in a big PR. Twan also set a personal best and dipped under 17 minutes for the first time. Vincent unfortunately did not make it to the finish.
Gijs surprised friend and foe in the 200 meters by suddenly changing his tactics. Instead of a rocket launch, he decided to save his power until the last 50 meters. Unfortunately, it did not improve his top time in Gouda. Tim vdK took the points and ran his best time of the past two years. Unfortunately for Andor the race did not go as planned. Stan proved once again that he is on his way back by improving his time from the NSK Baan and thus taking the points for team 2. Lynn was the favorite for the overall victory in the women's race but unfortunately had to settle for second place . Samantha found that she still lacks some experience in starting from the blocks, but she still ran a good time.
The Swedish relay led to a new club record for the women, were it not for the fact that Fabienne is not a competition member. Unfortunately for Maartje, Merel W and Samantha they have to make do with a 4th place. The line-up of the 1st men's team was changed at the last minute due to pains of Lars vdV, nevertheless the team (further consisting of Nart, Casper and Gabriel) ran to a decent time and 6th place. Team 2, consisting of Stan, Fabian, Basile and Yorick, came close to the first team, partly due to a final sprint by Yorick who can go into the history books. That also applies to his beautiful roll after the finish.
Meerkampers experience a good general for NSK Meerkamp
On 23 and 24 October, the NSK Meerkamp is planned on the same Eef Kamerbeek athletics track, this time in the form of a full heptathlon or decathlon. A good time for the Kronos all-rounders to get used to the conditions. Roy and Marjolein returned on successful ground, as they took 3 and 5 medals respectively at the NSK Baan back in 2018. One of those medals was a bronze in the shot put for Roy. He was unable to match his beautiful performance from Gouda, but still managed to take second place. Marnick set a nice PR with 9.49, with enough opportunities to pass that 10 m soon. Unfortunately, I'vo was unable to reach his goal of 8 meters, but there are also good opportunities here. At the women's event, Lynn only needed 1 attempt to get the win for team Enschede.
In the long jump, Michelle and Marjolein were engaged in an internal battle, which was won by Michelle with a mere 1 cm. Unfortunately this was only good for 4th place, whereas 3 cm further would have been enough for 2nd place. Roy managed to fulfill his role as favorite among the men by taking the win with 6.71 m. Koen approached his PR within a few centimeters to score points for the second team. Marnick decided to combine the long jump with the javelin throw, which turned out to be a difficult combination. All in all a good result of 4.90 m for him.
In that same javelin throw, Marnick managed to throw a PR with 39.90 m. That limit of 40 m is also quickly achieved! Andor took the points for team 1 with a throw of 42.05 m. Like a real pro, Stan invalidated all his attempts, except the first, because they were not far enough. In his last attempt, I'vo just beat the 25 m barrier with 25.11 m. Lynn was the only female participant and took 3rd place with 34.10 m, a disappointing distance for her.
The only remaining technical numbers went vertical, without (for the women) or with stick (for the men). Michelle continued her good form from Gouda by jumping 1.60 m again. Unfortunately she became 4th because of previous mistakes. Marjolein came to 1.55 m with a foot injury before leaving the game. With the men, Lars vdV learned the hard way that falling from a great height onto a bar is not ideal and can lead to painful knees. In the end he jumped 2.50 m. Twan unfortunately did not achieve a new PR but managed to break down the 3 meter limit again.
Kronauts also peak in the evening program
After a full and warm day of competition, it was time for a refreshing, playful relay in which a pawn with water had to be brought over a course. Dunya even got over a hurdle unscathed! This was also when the first pitchers Grolsch appeared, which the Kronauts thoroughly enjoyed. A spicy curry later, a fanatical game of Kubb/Frisbee/American Football started with only a handful of minor injuries.
After a very long time it was finally time for a NSK party. The most colorful Glow in the Dark outfits passed by during the party. Traditionally, some integration points were scored here and there and there seem to have been some good times in the Greek 400m as well. All in all a very successful day and night! See you in Eindhoven in a month!
---
Comments
Je moet ingelogd zijn om te reageren of reacties te bekijken.