Campusrun 2021
| Annabel Boonman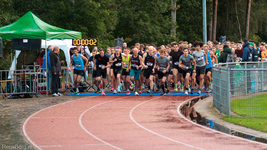 Wednesday the 29th of September, it was finally time for the tenth edition of the Kronos Campusloop. After the event had been cancelled two times last year, the committee was keen to make it a successful event.
The committee gathered early in the morning to prepare the whole terrain and course for the start of 19:00. Which, despite the appalling weather conditions succeeded. The help of all volunteers was indispensable in this and we are very grateful that they were willing to help with the construction of the terrain.
After the stomachs of the committee members, volunteers and officials had been filled with a fairly decent sportkantine meal, it was time to welcome the participants. The start numbers could be picked up at the sportcentrum and in no time it was 19:00. Time to start!
At 19:03, the speaker gave the start and the almost 200 participants started to run. Barely 10 minutes into the race, the first runner was already back. It was Stijn Jansen who finished in 9:42 minutes, which turned out to be enough to secure the victory in the 2 mile race. The victory at the women's race, belonged to Elisabetta Ribera, who ran her race in exactly 11 minutes.
Next to the 2 mile, there also was another event, namely the 4 miles. For this event, the participants needed to run two laps on the beautiful course around the campus. The 118 runners gave it everything and put some nice times on the board. It was Kevin Voss who took victory, as he was back for his second lap after 20:58 minutes. In the same event for women, home athlete Renee Sijbesma was the fastest with a strong time of 22:54 minutes.
After all the runners had passed the finish line, it was time to honour the winners on the podium. In the meantime, the results of this year's team classification were made. Because every team gave up the expected summed up time after which all four team members would have finished. In the end, it was team MarsupilaMu that won. They were only 0,11% off their predicted time!
Finally, the committee came with a surprising message. Because it turned out that there existed an additional team ranking where prizes could also be earned. This ranking could be won by the team that underestimated itself the most and ran the most time below their specified time. In the end, team LiveLoveRun took the win, because they were no less than 16.14% faster!
We look back on a very successful tenth edition of the Kronos Campusloop and we hope to see you back again for the 11th edition in March 2022!
By Willem Bosch
---
Comments
Je moet ingelogd zijn om te reageren of reacties te bekijken.