NSK Weg in Rotterdam in good running conditions
| Marjolein Bolten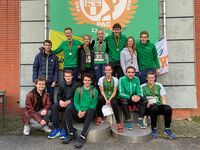 Last Saturday, November 13, 14 Kronauts traveled to Rotterdam for the Dutch Student Championships (NSK) road, where we competed in both distances, the 5 km and the 10 km. The NSK was part of the annual Erasmus round. The trip was not in vain, we set great times, personal records and even podium places.
Most Kronauts started their 'world trip' to Rotterdam early on Saturday morning. A few had to travel less far and lived nearby or had arranged a place to sleep nearby. In the end, everyone met at the athletics track in Rotterdam (PAC Rotterdam). Officially, the start of the 5 kilometers was at 1 p.m. It all ran out a bit due to the running time of the 15 km before. After some waiting time, the 9 Kronauts of the 5 kilometers ran around the Kralingse plas and forest; a nicely paved route with good running weather in terms of temperature and sun. The runners set good times, with personal bests. Chiel was ahead of our Kronauts with a neat 17.13. Dunya even ran 3 minutes from her previous record after a COBO drink the night before (!) Annabel also ran a PR and she finished 3rd with a sharp time of 22:06. It is a pity that the Kronos flag was missing from the podium at such a beautiful performance, but that did not spoil the fun.
The last 3 Kronauts went for the 10 kilometers at 15.00. Also with the 10 the route ran through the Kralingse forest and was fully encouraged by the 5 KM runners and Sander and Basile, who joined as supporters. Rogier ran his expected time and Marjolein was even faster than she had planned. Isis took first in the women's race with a very fast time of 40:25!
Unfortunately, due to the corona measures, there was no joint meal with other associations and no party either. Despite that, we left Rotterdam as participants with a satisfied feeling because of great performances and a lot of fun.
Written by: Isis Besselink
---
Comments
Je moet ingelogd zijn om te reageren of reacties te bekijken.