Egbert Jan Bouwhuis
| Annabel Boonman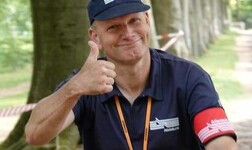 We are sad to hear today that Egbert Jan Bouwhuis (53) has passed away. Egbert Jan had been a member of D.A.V. Kronos since the 1980s, both as a donor and as a competition member and we encountered him frequently at competitions in Twente, but also throughout the Netherlands as a competition director or referee. We could always count on his presence at the Campusloop and JKG and he was always there for us when we organized NSKs. With the help and advice of Egbert Jan, we were always assured of a smooth race. We will miss his knowledge, involvement and humor enormously.
We wish the family and friends of Egbert Jan a lot of strength.
If you would like to share a memory of Egbert Jan, you can comment below this post.
---
Comments
Je moet ingelogd zijn om te reageren of reacties te bekijken.