Sunny NSK Ekiden
| Marjolein Bolten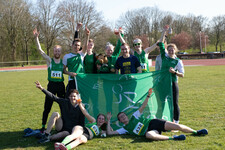 With two teams, Kronos was present at the first NSK in the sun this year. The Kronos 1 team competed in the mixed standings and the Kronos 2 team competed in the men's standings.
After a number of last minute changes due to Daan's bruised ribs, it was time for Ella and Ivo to start the 5 km. Both took off enthusiastically and after less than 25 minutes it was time for Nart to take over the green ribbon from Ivo and start the 10 km. With a time of under 28 minutes, Ella also made a nice debut PR and after the pre-practised relay exchange from a three-point start, it was time for Fabian's 10 km. Both men experienced the heat but after the first 5km lap there was some refreshment and drink for both men before they continued their stage with a second lap.
The next 5 km were run by Koen and Marjolein and both were very happy that they could stop after 1 lap to pass the ribbon on to the next 10 km runners, Stan and Willem.
Stan was really looking forward to it and after his 35 km last weekend this distance was easy. Willem was already practicing for his bata stage with this distance and despite the heat he also enjoyed it. For the men's team it was time for photographer Lars who wanted to run a relaxed 5 km, with a pre-estimated time of between 20 and 22.5 minutes. While running Lars thought that if you run faster you can drink beer sooner, so after a quick 18 min Lars was finished and that beer was well deserved! Also for Kronos 1, Annabel managed to amaze herself by running just under 24 minutes after 2 months of injury.
The final runners were Thijs and Dunya, where Thijs brought the Kronos 2 team neatly to the finish with a nice 3rd place! Congratulations guys! Dunya's tactic was to go away at her 5km PR pace and then run the last 2km on someone else's character, this worked out very well with a 5km finish that was even faster than her PR!
---
Comments
Je moet ingelogd zijn om te reageren of reacties te bekijken.