Assiociation Weekend
| Ivo Stapel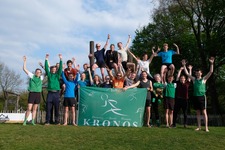 "So come to Danny's Car Palace!
Cars for a great price
Manual transmission from automatic
Ten years old or in new condition
It doesn't matter, so be wise
And come to Danny's Autopaleis"
It is the text with Rita Zwakkelhoef (61) from Epe was rudely shaken awake on Saturday 23 April around 3 o'clock in the morning. "Unacceptable", according to Gijsbrand Zwakkelhoef (67). "I stood on the landing with fear for my own life."
How did we end up in this plight? Read on for the story behind this intense experience of Epe's biggest scandal since the quickly broken door handle at Bernardus primary school.
It is a sunny Friday evening, the evening sun is shining through the train window. The peace and tranquility of the train that accelerates quickly but stably over the rails towards Hengelo is reflected in the passengers. Read a newspaper, a middle-aged man quietly listens to Sinatra's album and in the back of the sprinter 2 women who have seen their glory days talk melancholy about the times of the past. Until the train parcels at Kennispark station come to a start, the train is interrupted by a mob of green hooligans. "Guest 'Vo for Kegel' is called by a young man wrapped in a green robe and his blue-silver sunglasses moved from his head to his breast pocket. The silence is over, the 28th Kronos association weekend has started.
From a back corner of the train, 2 women look back towards the double four-seaters in the middle of the train. They are excited to hear stories from a blond-haired young man. "Today I was already 2 hours in the train to go to Almelo de Riet" he enthuses. The women thought about what the hell you could possibly be looking for in Almelo as a sane person. Clarification of the situation soon came. The discussions drawing up a principle are started, the initiator a wo for. The loser of this bet would have to be given to Almelo de Riet station, where he then folds in a powerful bottle of Grolsch using a straw. The volta of the system is, however, in the irony that the winner of the bet must also be directed to Almelo himself, the term should therefore not really be used with this bet.
The influence of these green-clad hooligans soon spread. As if cult members approached these so-called Kronauts unsuspecting train passengers to come and support their pyramid scheme. "Are you joining Kronos too? You must be in the Kronos Coupe, haha" you heard these cunning rascals involve innocent civilians. In addition, excessive photographs were taken of activities considered to be separate by right-thinking citizens. The train came to a stop in sunny Apeldoorn. As quickly as they came, the green influence was gone and peace and prosperity returned to the sprinter. After an equally capricious bus ride, the group arrived in Epe. With an apocalyptic roar, the group welcomed a bearded individual who appeared to be driving black in an Arriva minibus.
After a short hike, the group arrived at the CialVo Athletics Track. Tents were set up there, food was prepared and the first lukewarm bells were filled up. Led by several team leaders dressed as jungle animals, the Kronauts took part in a pub quiz organized by Roy and Marnick. Three members of the 65th board have handled this situation nicely to forget their traumas from the previous pub quiz. After stimulating the brains, the music turned on and the tap opened. In addition, a Crazy 66 was handed out and it soon led to Vincent who was singing the national anthem of Epe with a microphone.
The next few hours are a bit hazy in the writer's mind, so I'll give you a few snippets from the rest of the evening:
Every now and then a quiet and civilized drink was startled by several individuals who suddenly drank Fabian.
To loud cheers, 330 ml of bells were folded in through the most filthy coffee mugs in the world under the tight jury control of Dunya, Daan and an Adtmeister.
Various other crazy 66 parts were practiced leading to singing, acrogym, night sprints, crawling sewers and writing poetic bragging letters and slogans.
After a certain moment, the Kronauts got ready for a nighttime endurance run. Due to an excess of registrations, this led to the most visited nighttime long run in 5 years. After following an enthusiastic Gerber into the woods, some Kronauts found out that the combination of lager and running turned out to be different than hoped. A single Kronaut forgot to lift his feet at a threshold and went berserk. After a refreshing endurance run, some of the Kronauts continued to run another 400 meters at night, in preparation for the competition.
After these refreshing sports activities, there was a lot of drinking and a nice karaoke. This turned out to be accompanied by slightly more volume than initially expected and this resulted in several naps that were rudely disrupted.
After a short and cold night, the Kronauts were awakened by an enthusiastic committee, after a sandwich and a glass of water, the group prepared to leave for the beautiful old city center of Epe. Here was a competitive battle for the highest price in the Crazy 66. Beautiful photos were taken in groups, got forks at the snack bar and Anne received a stock of cottage cheese that she could have used for a long time, if she had not left it in Epe .
After lunch, the Kronauts could enjoy a beautiful treasure hunt in the forest. In addition to flags and stamp cards, a number of local residents were found with varying acidity. Where at post 1 you could find a woman with an acidity so high that you can catalyze esters with it, there were also a number of enthusiastic locals with sweet dogs who went to see what was happening. After a refreshing walk through the forest, the Kronauts came back to rest from their adventures, here some games of football were played and the rest of the Crazy 66 finished by some enthusiastic teams.
After dinner, groups were kidnapped 1 by 1 and thrown out of the car into a random hole on a heath. They were given a map and some fun activities to do along the way and that's how the drop had begun. Beautiful pictures were taken along the way, swings were terrorized and a snack bar was visited. After a number of long and a number of short routes back to the Athletics Track, a last party night started. The Kronos Baking Championship was still a prominent feature here. After a fierce battle, Daan lost to Casper and a true Kronos champion was born. After an extra 400 meters of training in the night, this beautiful day also came to an end.
On Sunday morning, the group was able to get up quietly by cleaning up their tent camp and following a survival run training from Casper. After a nice training, where the Kronauts learned a lot of new technical skills, the final battle started. It soon became clear that survival running in a monkey onesie is more beneficial than survival running in a zebra onesie.
After this beautiful activity, a tired and broke bus and train journey back to Enschede was completed. Kronautjes could go to sleep again and prepare for the beautiful Bata weekend. Super'Vo for the committee that put down this wonderful weekend and Vo for cone.
But what has happened to the Zwakkelhoef family? We'll never find out? All we know is that Epe will never be the same again.
---
Comments
Je moet ingelogd zijn om te reageren of reacties te bekijken.