Kronos wins the 50th Batavierenrace!
| Roy van Zijl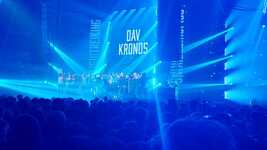 50 Kronauts versus running 175 kilometers during the 50th Batavierenrace, from the title of this story you can already guess who won this battle. Whoever predicted a victory for Kronos team 1 prior to the Bata, I (and many others with me) would have declared crazy. Team 2 also performed extremely well, despite the fact that they just missed their goal of the top 50 (among other things due to a very questionable time penalty), so that all of Kronos can look back on a wonderful anniversary edition of the Batavierenrace.
Early on Friday, the committee was busy collecting vans, groceries and missing people who were supposed to help with cooking but in the meantime were playing card games with our Amsterdam friends from Aquila. After a well-filled pasta meal, the two night shifts left for Nijmegen in the vans pimped up by Kronos stickers, while the other Kronauts went to disrupt some sleep at the other SAVs present before catching some short hours of sleep.
Lars and Gijs were allowed to start off for the 1st and 2nd team respectively. Lars set the tone for the 1st team by finishing 8th immediately, despite a [according to him 'severe'] injury sustained while playing beach volleyball that afternoon. Gijs had pulled out his Kronosgreen (or were those Bata shirts red) especially for this occasion and set a decent time.
The night shifts were then allowed to make their way through the darkness. And finding that right road turned out to be a challenge, with signs pointing in the wrong direction and special descents towards the Rhine before an endless climb to cross that same river. After a night of navigating with only a headlamp, team 1 (after beautiful stages by Casper H, Jasper G, Dunya, Thijs v A, Rogier, Loek, Fabienne and Merel L) returned to a beautiful 4th place in the general classification. Fabian, Ivo, Rick, Willem, Koen, Thijs R, Ella and Jelmer were allowed to make their way through the night for team 2 before sneaking into the top 100 of the standings.
While the night shifts made their way through the Achterhoek, the morning shifts were eager to complete their part of this relay very early. Immediately after the restart in Ulft it became clear that they had forgotten to have breakfast, because the other teams were eaten as if they did not exist. Team 1 raced to 1st place in the general classification thanks to Yorick, Carina, Samantha and Gerber, after which Nart, Twan, Freek and Basile only strengthened this position. For team 2, Daniel, Anna, Suze, Anouk, Matthijs, Fabian A, Tim and Gabriel were allowed to keep the honor high. They dragged the team to a nice 60th place in the standings.
Then it was time for the somewhat rested afternoon shifts to start their way to Barchem and bring in the Bata in Enschede. Team 1 had a 7 minute lead to defend against our British rivals, something that made the tension palpable for the other teams who have since returned (or woke up, in the case of most of them). Vincent, Thijs V, Michelle, Marnick, Steef and Isis did exactly what was asked of them and went even further in the general classification. This gave the closing runners, Stan and Anne, a safe 18-minute margin over the closest competition ahead of their stage. For team 2 Jurgen, Sander, Pytrix, Twan B, Jorge and Marjolein came into action in the afternoon. And were it not for a very questionable substitution penalty, they would have easily entered the top 50. Unfortunately this was not to be and team 2 found themselves back in 62nd place.
A large group of Kronauts had meanwhile gathered on their own UTrack to shout in the final runners. Slogans have already been tried ("It's coming home!") and plans for riots that you normally only see in football (next year also those fancy smoke flares, please). After a delayed start, it was time for the heart rate to really go up. Stopwatches were kept on hand to keep an eye on possible losses and the necessary anti-stress Klokjes were probably worked in to alleviate the worries. But none of that was necessary as Anne ran a superb final stage, despite the great pressure she felt, and took almost 6 minutes on the direct competition with a brilliant time. And that with the display of the Kronos flag, something that was discouraged by the audience, because a good time had to come. But that turned out not to be necessary at all because of this great performance. This allowed a quiet party to be built along the side. This party was extra enhanced by the arrival of Maartje met Kegel, who also set up a super time.
A loud cheer went up as Stan's green hair was one of the first male runners to appear on the track. With a beautiful final sprint, which he himself thought started a little too early, he confirmed the victory for Kronos team 1 at the 50th Batavierenrace. A unique and wonderful achievement that we hope we can repeat again. Daan also ran a nice final stage, although he almost did what two of his predecessors did (looking at you Roy and Thijs R); go slightly over your neck at the finish. But the Kronauts no longer felt the pain because of the euphoria that had come from the beautiful result. A 1st place for team 1, and a 61st place for team 2!
The evening was started with a nice BBQ (or South-African Braai according to Daniel) at Anne's home, in which the most unique Hamburgers were created and the different types of grilled vegetables were tasty. At 23 o'clock exactly (or with a ten minute margin) it was time for the big moment; the award ceremony in the well-stocked Bata tent. A number of Kronauts had to come full throttle and sprint from the distant Raalte in order not to miss this moment, but they also saved it (possible fines can probably go to Tim, Michelle). After waiting in the wings for a while, it was finally time to get hold of the goblet and receive the applause. Kronos was in large numbers on the biggest stage that many have seen, a beautiful sight and an unforgettable experience for everyone.
All in all, we can look back on one of the highlights of the association's existence and we can do nothing but reminisce and thank everyone who ran, organized (super well done committee), encouraged or contributed in other ways for their efforts . Together you can achieve great performances and that is clearly confirmed here! Of course we hope to repeat this next year, we're running it back!
---
Comments
Je moet ingelogd zijn om te reageren of reacties te bekijken.