Kronos on top in Groningen
| Roy van Zijl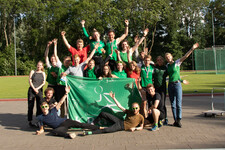 You are probably all familiar with the saying: 'There is nothing like Groningen'. During the NSK Meerkamp, ​​our Kronauts proved once again that nothing beats Kronos. Roy and Michelle took the Dutch student title in the decathlon and heptathlon, Merel W the silver in the same heptathlon and Nart the bronze in the multi-run. An extensive report from the sunny far north:
Matadoren on the decathlon
At 11 o'clock sharp on Saturday morning, the first Kronauts started their decathlon adventure. Despite a somewhat heavy night prior to this for a few, they were all fresh and fruity. However, the jury was still out, so the start was somewhat delayed after someone had finally found a working printer. On the track decorated with red and white dots - crazy art form - the gentlemen raced to the finish of perhaps the simplest part that would await them in the next 36 hours: the 100 meter sprint. Roy took the victory in a very neat 11.72, good for 707 points. Willem stopped the clock at 13.56, Ivo at 13.92, Rick at 14.32 and Koen ran a 14.52. We immediately introduced our Kronos matadors. Then another simple explanation of the decathlon (and heptathlon); every performance in one part translates into a number of points, whoever has collected the most points over 10 (or 7) parts wins.
In the long jump, Roy set a new personal and club record with a distance of 6.86 meters! He also provided photographer Lars (especially looking at all the photos; highly recommended!) a very pleasant sand shower. Under the watchful eye of jury member Basile, the other Kronauts also achieved great performances in the sandbox. Our gentlemen were then allowed to take it easy and put their arms to work during the shot put. In a very exciting internal battle, Ivo just took the win over Willem, that is due to the intimidation training sessions of late. In the high jump, Koen showed what he was made of by winning the internal Kronos battle with a height of 1.66 meters. To conclude Day 1, the Kronauts got to enjoy themselves with a single round of running track; the 400 meters. Tired, our men could look back on an excellent 1st day with some nice PR's and performances.
Very early on Sunday morning (after a short night for some, but you will read more about that later) the men were allowed to prepare for the fear gegner of the decathlon: the 110 meter hurdles. The 1.07 m high executioners intended to separate the wheat from the chaff are already hell if you feel good, let alone as part number 6 with the lactic acid still fully present in the legs. Ivo and Rick decided to save themselves for the other 4 songs and so skip this part. Roy, Koen and Willem made their way through the headwind to good times, for Roy even a PR. Fortunately, the decathletes were able to recharge themselves afterwards during the discus throw. Under the watchful eye of coach Thijs, discs were thrown into the field in the most beautiful ways. Willem especially kept it exciting by seeing his first two throws declared invalid.
What followed was a good 4.5 hours of pole vaulting (seems to be) high (or should be) in which our Kronauts had a lot of trouble with themselves. Unfortunately, Koen, Ivo and Rick were unable to reach the starting height. Willem could not match his beautiful performance of the competition. Roy literally rose above himself by making it through the magical 3 meter barrier. What followed was the javelin throw led by the most capable jury that ever existed as it was almost completely filled by Kronauts. Roy, Ivo and Willem all 3 managed to sharpen their PR on this penultimate part.
Finally, our matadors were allowed to rush over the tartan during the hellish closing 1500 meters. With the prospect of pizza in mind plus the eternal fame of completing the decathlon, they all managed to get over the finish line. Rick closed his first decathlon with a total of 1,815 points and a 25th place. Ivo got 2328 points for place 24. Koen scored 2573 points and took place 21. Willem trumped him with 3229 points and an 18th place. Roy scored 5651 points over the ten events, which gave him a nice second place in the decathlon, 11 points behind. However, due to the - in this case particularly favorable - arrangement that the worst part per person did not count for the result of the NSK, he still got the gold!
Titan battle on the heptathlon
The Kronos women had an honor to uphold after they turned the entire podium green at the previous edition of this NSK. With one of these women unfortunately on the sidelines, it became a difficult job to match this beautiful performance. Nevertheless, Michelle, Merel W, Maartje and Isabelle started their heptathlon with good spirits. Starting with those damned hurdles; ten pieces of 83.8 cm high, spread over 100 meters. Merel and Michelle made it into an exciting battle in which Michelle just had the upper hand and took the win with a PR of 15.33 seconds. A little later she managed to amaze friend and foe in the high jump by improving her personal best not 1, not 2, but even 3 times from 1.60 m to 1.69 m!
During the shot put, Isabelle showed that she is in good shape by improving her personal best in addition to her previous PR on the hurdles! Unfortunately, Maartje just didn't get her distance from last year. Then it was time for the 200 meters, the concluding part of the first day. Merel W proved her talent on these long sprint distances and raced to victory in a nice 26.72. Michelle took her 3rd PR of the day with a 27.47 and Isabelle also took her 3rd PR with 30.56 seconds. Maartje unfortunately stayed just 14 hundredths above 30 seconds.
Day 2 of the heptathlon traditionally started with the long jump, less traditionally it also started at 10 am, something less conducive to performance. All Kronauts managed to put in a decent performance here, unfortunately no PRs were achieved. However, this was different with the next-to-last part; the javelin throw. Michelle managed to throw a big PR here with 36.54 meters. Merel didn't stay far behind here with a neat 34 meters. All of this set up a head-to-head Kronos duel like no other. The gap between Merel (at that time place 2 in the standings) and Michelle could not be greater than 15 seconds on the final 800 meters. The tension was to die for, even trembling hands.
In this closing 800 meters it was Merel who had set her sights on these 15 seconds, of which she already took 10 on the first lap! After loud cheers from all present Kronauts she finished in a very neat 2:21.57, her 2nd time ever. Michelle fought for her life and finished in 2:35.83, another PR and just in time to take the title! She closed her all-around with 4752 points, Merel finished in second place with 4659 points. It was clear that the Kronos women rose above everything and everyone, given that place 3 on the podium achieved 'only' 3753 points. Maartje also dragged herself across the finish line in a new PR of 3:01.67, which resulted in a total of 2648 points, good for place 10. Isabelle unfortunately had to give up the fight in the 800 meters but eventually finished her heptathlon with 1953 points in place 23.
Dieting at the running camps
During this NSK there was also a multi-run camp for the men and women on the program. This pentathlon consisted of a 100 m, an 800 m and a 5000 m on day 1 and a 400 m and 1500 m on day 2. Tim vdK and Nart appeared at the start for the men, Anne, Anna and Dunya represented the Kronosgreen. This all-round race was set up differently in terms of classification, in the sense that the number 1 received 100 points regardless of the time, the number 2 95 and so on. So bad races and tactics could be pulled out of the closet here!
Tim immediately decided to show his sprint talent by winning the 100 meters with force majeure in a time of 11.87. Nart also ran a neat 12.60. Anne unfortunately had too much trouble to do all parts and decided to save herself for the 5000 meters only. Anna and Dunya started their all-around with a strong headwind and times of 15.87 and 16.34 seconds. They also ran strong times in the 800 meters that followed. In the men's race, both Nart and Tim ran very strong, which resulted in great times and many points! During the 5000 meters we saw Anne make her entrance, unfortunately her result cannot be found but it looked good! Dunya and Anna also managed to work their way through the 12.5 rounds at a nice tight pace. This also applied to Tim and especially Nart, who both put out a neat final sprint for good times.
On the second day the men worked their way through the 400 meters with very good times, even a PR for both! Unfortunately, Dunya had fallen out with the women, leaving it up to Anna to uphold the Kronos honor and she did so with style! In the closing 1500 meters she just managed to dip her competitor out, so that she ended up with a nice 5th place in her debut competition! It was very exciting for the podium for the men. Nart managed to outrun his direct competitor in the final sprint, but this was just not enough for the silver. He should be very proud of the bronze he took with him to Enschede. Tim took the always annoying 4th place but showed that as a sprinter he can mix well in this runner's violence.
Cosiness above all
In addition to all these wonderful performances, it was of course also a nice weekend for all Kronauts present. Merel L, Thijs and Marnick still dared to disc throwing in particularly difficult circumstances, after which Merel also ran a new PR in the always tough 800 meters. You all have a very nice performance!
Some Kronauts had already arrived on Friday to explore Groningen city, with varying results that were still noticeable on Saturday. On the same Saturday, the match ended with a tasty (or spicy) curry before the Kronauts got into their festive spirit for a traditional NSK party. Of course, this could not have happened without the fun NK Vlalikken, an event that you have to attend to understand. Take a look at the photos Lars has made of it, but don't do this while eating. After a successful evening it was time to recharge yourself as best you could for that always tough day 2.
The best thing about doing an all-around event is the satisfaction of completing it. Do you not become an athlete until you have completed a decathlon or heptathlon? Those who have done it say yes, but there is of course room for discussion. The fact remains that completing an all-around event is an achievement in itself that should be rewarded, and it was certainly well done by a very large pile of pizzas for little money. After these had been eaten, the Kronautjes could travel back tired and satisfied to the suddenly southern Enschede. A wonderful weekend with more than wonderful performances comes to an end and next year we will make it just such a party together!
---
Comments
Je moet ingelogd zijn om te reageren of reacties te bekijken.