Wins in Windy Wageningen
| Roy van Zijl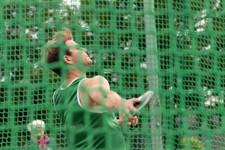 With the summer holidays approaching, a group of Kronauts traveled to the center of the country for the last NSK of the academic year: the NSK Outdoor on the blue track in Wageningen. They returned full of medals, PR's and great stories, but the energy levels were hard to find after two days of going hard in the windy conditions.
Fighting mother nature and the acidification
Not only do you always have a headwind on your bike in the Netherlands, you often also get a refreshing breeze on your face on the sprint tracks in Wageningen. That didn't seem to bother Roy, he ran a PR in the 110 m hurdles and took home the bronze. Michelle did not have to go all out to secure the gold and the Dutch student title in the 100 m hurdles. She also easily made the final in the 100 m without hurdles, which she ultimately did not start because her 8 events were a bit much. Daan and Gabriel had a little more trouble with the wind, but still ran decent times on their 100 meters. New-fangled kandi-chairman Willem once proved that a day at the zoo is the ideal preparation for a competition and shook up a big PR in the 800 meters from his sleeve.
Flying for advanced
The strong wind was also in the way in the pole vault, but Isabelle managed to set a very solid 1.90 m in her first official pole vault competition, which made her just short of bronze! Unfortunately, her match ended a bit early due to a collision with the bar, who wanted a little more physical attention than he received. A lane next to it, the men had started the long jump. Daan again just didn't manage to break that magical boundary of 5 meters. Tim made it through, but due to his heavy work as a full-time jury member, he was just unable to approach his PR. Roy managed to do this, he flew to both 6.98 and 6.99 m, also immediately a new club record and good for the bronze! Michelle also just got stuck 1 centimeter, this time set below her PR with her previous push-off leg. Unfortunately, Maartje was also unable to break her own record.
Unfortunately, with the addition of 2 extra jumps, the results did not improve much for the Kronauts who had ventured into the triple jump. Despite a considerable off-day, Roy still managed to win the Dutch student title. Isabelle set a consistent run but unfortunately could not approach her own record. Tim had found another gap in his jury schedule in which a high jump competition fit, unfortunately he did not improve on this either. He himself came to the conclusion that training could be useful for next time. Michelle didn't need any extra training as she soared over the 1.70 m, equaling the club record and becoming national student champion in her second event!
The better throwing work
The vast majority of Kronauts came to Wageningen to put their arms to work and throw shots, discusses and javelins as far away from them as possible. Exam stress and croquette sandwiches are of course the perfect fuel for this. In the women's shot put, Marjolein won silver with a new PR! Michelle, Isabelle and Maartje came close to their PR's but just couldn't match them. Roy also managed to improve his PR among the men, which gave him the famous 4th place. Because these distances were not enough for our demanding athletes, some of them decided to provide their shots with an iron wire and handle in order to get the iron shots further away. In the women's competition, Marjolein again managed to hurl a big PR and even made it to the final in her 2nd ever competition in the event. Maartje hurled for the first time in competition and managed to set a nice distance with Isabelle just beating her. Merel also got a PR on the hammer throw, with a lot of potential to take this further! In the men's event only Thijs was at the start, he threw a decent competition but here too there was room for improvement.
This also applied to his discus throw, with an annoying tailwind the discus were not hit well, which led to a disappointing result for Thijs. Roy miraculously managed to swing the discus to just above 30m as usual. Ivo threw a big PR in his only part of the weekend (mister wanted a quiet weekend) and came very close to the magical 25m Daan even managed to match his PR to the nearest cm! Rick unfortunately saw his discus end up in the net 3 times, so he went home with a NM. With the women only Merel was at the start with a solid result as a result. On the other side of the field, Daan managed to land his spear past the 30m for the first time! Maartje needed a few extra attempts to continue her upward trend and thus approach her PR, unfortunately this was not possible. Pitching specialist Marjolein almost threw her PR, which was good for a bronze medal! Michelle surprised friend and foe by landing the spear after 38.45 m, good for the silver!
Pasta alla Vento and something with tractors
As befits an NSK, the first day ended with a playful activity. Team Appie took part in the tractor tire flip on behalf of Kronos. Ivo, Daan, Michelle and Roy - all dressed in AH merch - came eerily close to victory. Their 38.76 s was ultimately good for the bronze, they missed the gold by 0.2 seconds and a slipper from Ivo. Afterwards, two tasty pastas were served that the Kronautjes liked, provided they did not blow off their plates. The evening concluded with a farmer's themed party, but what happened there is better for the safety of all involved to keep in mind. After all, is it revelry, loan or theft?
Exhausted, the Kronautjes were able to start their way home, looking back on a wonderful weekend that is certainly worth repeating. We hope to see you all again at the next NSK; September 17 in Delft for the NSK Teams.
---
Comments
Je moet ingelogd zijn om te reageren of reacties te bekijken.